Spreading Christmas Cheer: Young People from Oldham provide a helping hand to the elderly.
Christmas, is widely known for many as, 'The most wonderful time of the year'. However, for some, it can be a period of loneliness and isolation. Due to the pandemic, many elderly people have found themselves more isolated than ever, as some are unable to spend time with loved ones at Christmas.
As a result of this, a young group of NCS Changemakers from Oldham Athletic Community Trust set out on a mission to tackle social isolation amongst elderly people and spread some Christmas cheer within the community.
The young group launched their social action project as part of their involvement as Changemakers. Changemakers are graduates of the NCS programme, who after boasting incredibly successful summer experiences, decided to volunteer and continue making positive differences within the community.
For their social action project, the group were determined from the outset to raise funds for the elderly tenants within Hopwood Court Care Home. This was done through the launch of a matchday fundraiser, where the group conducted a bucket collection during the Oldham Athletic vs Port Vale match on Saturday 20th November.
The group's project was announced over the stadium tannoy and also featured within the matchday programme, enabling great exposure towards the cause and raising over £100 in donations from supporters. The group then decided to utilise the funds raised, to spread some Christmas cheer for the elderly, by delivering a Christmas party event with a buffet, including Christmas karaoke and bingo.
The group didn't stop there, as they also carried out the delivery of a special Christmas care package to the care home. The care package included Christmas treats and personalised cards, which was greatly welcomed by the elderly tenants, as the young group embodied the magic and togetherness spirit of Christmas, making sure the elderly did not feel alone this year.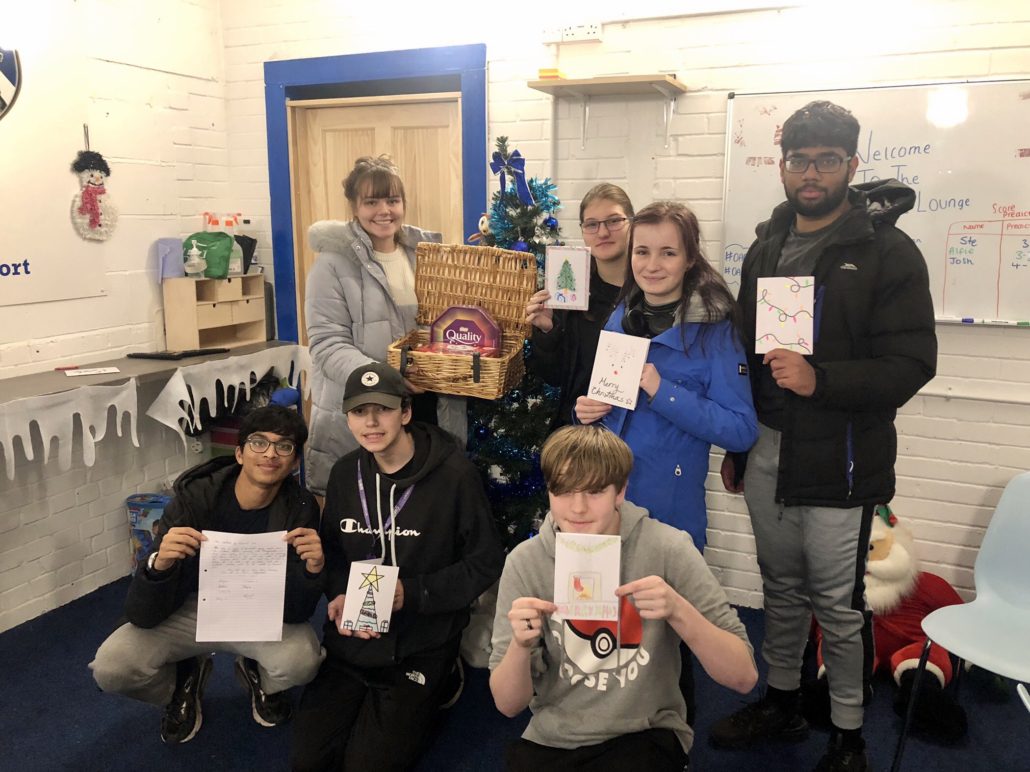 We spoke to some of the young Changemakers involved within the project:
Eniko – "Christmas is a time of family and coming together, but people are often forgotten about, particularly older people and those that can't see their family, especially during Covid. By doing this project, we wanted to bring joy and a sense of belonging, to give them a good Christmas."

Mel – "Social action allows us to make a difference and have a purpose, which is improving people's lives."

Balsan – "Christmas is a time of giving, and we want to make sure that no-one feels alone."
Holly Grimes, NCS Manager at Oldham Athletic Community Trust, had this to say about the Changemakers social action project:
"We hope that the Christmas party event brought people together to celebrate the Christmas period, as well as enabling them to speak to people from a different age group and hopefully giving them the sense that people do care about them and don't want them to feel alone, particularly given the current circumstances of the pandemic."

"The carers expressed that the residents had really enjoyed the event and were very grateful for the care package and personalised cards."

"A lot of the residents have not been able to spend much time with their families due to the pandemic, so we wanted to spread some festive joy and ensure no-one feels forgotten about at Christmas."